Mechanical Repairs
Log Book ( Warranty ) Servicing
Kass Mechanical Repairs scheduled maintenance will keep your car running longer and stronger. From belts to batteries, brake jobs to wheel alignment, exhaust to air conditioning. Regular visits to Kass Mechanical Repairs will help prevent costly repairs to your car, van, light truck or SUV.
Front and Rear Brakes
Kass Mechanical Repairs is a brake repair expert; that's important when it comes to safety, there's nothing more important than being able to stop properly. It's a service that Kass Mechanical Repairs takes seriously. At Kass Mechanical Repairs we always provides you with a free, no obligation inspection of your vehicle's braking system.
CV Joints
CV joints are necessary because they transfer torque at a constant speed to the wheels. They also accommodate the up and down motions. That's why it's important to have your CV joint boot inspected regularly. Kass Mechanical Repairs will inspect your CV joint boot every time you have an oil change.
Driveline
If your vehicle shudders during acceleration or if you hear a loud clunk during shifting, roughness, clicking noises or a squeaking sound at low speeds may also indicate driveline trouble.
Exhaust & Mufflers
There's nothing worse than hearing that old "rattle rattle thunder clatter boom boom boom" coming from your car. A bad muffler is noisy, embarrassing and bad for the environment. Kass Mechanical Repairs always provides you with a free inspection of your vehicle's exhaust system.
Timing Belts
If your timing belt breaks, your engine will stop working, stranding you wherever you may be. Even worse, it could cause major engine damage. That's why it's important to have your timing belt regularly inspected.
Drive Belts
Drive belts, provide power to the air conditioning compressor, power steering pump, cooling fan, air pump, and more. If your belt breaks, all of the engine parts it is powering will stop working. Your engine could overheat and be damaged. It's very important to have your serpentine belt inspected.
Tune-up
A standard tune-up, or spark plug replacement, done at the suggested maintenance interval will make an engine easier to start, improve fuel economy, lower emissions and restore lost power.
Water Pumps
Your car's water pump is the heart of your car's cooling system. If your car's water pump fails your car will run hot, overheat and cease to function. The water pump is operated by your car's engine.
Automatic Transmission
Transmission repair is a major, time consuming, and most often, expensive automotive repair. That's why it's so important to keep your transmission properly maintained. Kass Mechanical Repairs will help you do that. Regularly scheduled maintenance service can help you avoid costly repairs especially when it comes to transmission repair.
Radiators
The job of your radiator is to keep coolant flowing throughout your engine. If there's a block or a leak, your engine can quickly overheat and your vehicle will break down. We recommend having your coolant system professionally inspected by Kass Mechanical Repairs at least once a year. We are coolant system experts and we knows how to keep the coolant flowing, and your car going.
Oil Change, Filters & Lube
Regular maintenance is the best way to keep your car running properly. Along with your vehicle's oil change, our expert technicians can take care of your fuel filters, lube, radiator, antifreeze, fuel injector cleaning and leaks.
Engine Diagnostics
Today, most cars are controlled by computers. The fuel injectors, the spark plugs, the steering system and more are all told when to fire and when to move by an onboard computer system. Kass Mechanical Repairs has the latest diagnostic equipment to identify what part of your engine or vehicle needs servicing.
About us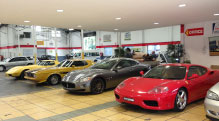 Kass Smash Repairs was founded in 1967 by John Kastaneas, a young panel beater with a vision that would take the motor vehicle repair industry by storm and allow him to single-handedly create the "Kass Group Of Companies".
Read more