Truck Smash & Body Repairs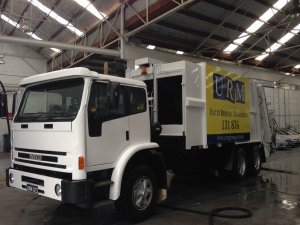 Kass Smash Repair specialises in all commercial vehicle body repairs, truck repairs, truck roof repairs, tail lift repairs and tailift breakdown repairs, crane hydraulic repairs, tailift hydraulic repairs, commercial vehicle hydraulic repairs and truck hydraulic repairs. As commercial vehicle body builders we have a very skilled team who can repair and refurbish all types of lite and heavy commercial bodies.
With our vast wealth of experience we are capable of tackling all of your needs and meeting your expectations by providing the best possible service to all our clients.
We are Approved by most leading insurance companies and our service is renowned for the quality of our body and panel repairs. No repair is beyond our facilities and capabilities. Our new modern and state of the art paintshops is caipeble of handing the virtually every size of vehicle or trailer.
Our Commercial Body Repair Service include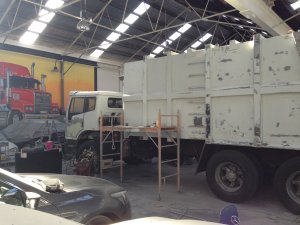 Body Repairs
From total rebuilds to replacement headlights, Kass Smash's highly trained and qualified staff are always on hand to take care of your Truck, Semi, Bus or Coach, no matter what it needs.
Our servcice is known as a "one stop shop" for all heavy vehicle repairs and ancillary equipment.
We carry out all of the commercial repairs in our brand new state of the art facility.
Taillift Repairs
Everyone knows how indispensable tail lifts are, but not everyone knows how quickly and professionally Kass Smash repairs them. We offer a full taillift repair service for a wide range of taillifts, and are well equipped to test your taillift once it has been repaired.
Whether you need a new platform for a new hose for an taillift, we can get you back on the road and delivering to your customers.
We offer
Commercial Vehicle Body Repairs
Tailift breakdown repairs
Commercial vehicle, truck painting and sign writing
A full commercial vehicle accident repair facility
Chassis and axle realignment
Commercial Vehicle Insurance repair quotations
Referb facilities for all commercial vehicle and trailers
Chassis Realignment
Commercial vehicle and trailer chassis realignment is one of our specialities. We also have the capability for steering geometry resetting. All axle and chassis realigning is done to a very high degree of accuracy using the latest Laser alignment equipment.
About us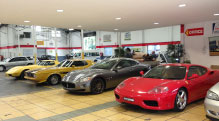 Kass Smash Repairs was founded in 1967 by John Kastaneas, a young panel beater with a vision that would take the motor vehicle repair industry by storm and allow him to single-handedly create the "Kass Group Of Companies".
Read more